Three months in the USA: Far, far away from home, in a completely different time zone and on the other side of the world.
Three months of meeting tons of fascinating new people, supporting my ABRAMS Industries Inc. US / CA / MX team on-site and attending an impressive number of events.
Was it all worth it?
Ready – Set – Go!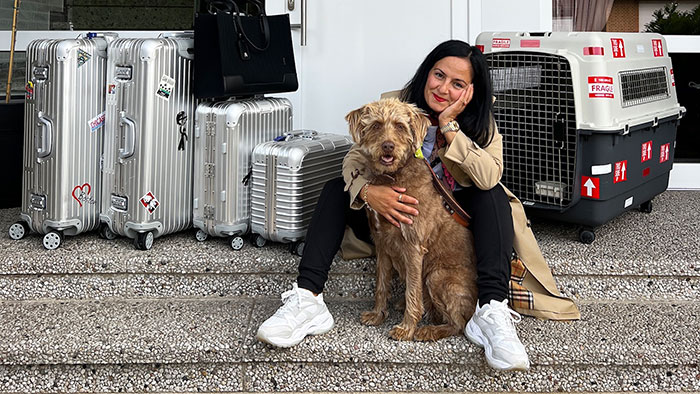 When I packed my bags at the end of August to go to Chicago for 12 weeks, I thought I knew what to expect. After all, it wasn't my first time in Chicago, let alone my first time in the USA. After already being there for three months last year, to open the ABRAMS Industries Inc. branch in the middle of a pandemic, I thought there was nothing that could surprise me.
As soon as I arrived safely with my wonderful dog Frida by my side, it was nothing but excitement and hard work from the get-go.
Back in Bolingbrook, IL
First things first! Right after landing in O'Hare, we drove to our plant in Bolingbrook – 40 minutes West from Chicago, to finally reunite with my US-team – only having seen them in video calls for the past year. And as I walked through our warehouse and offices, I felt so proud of what we all have achieved in the last year.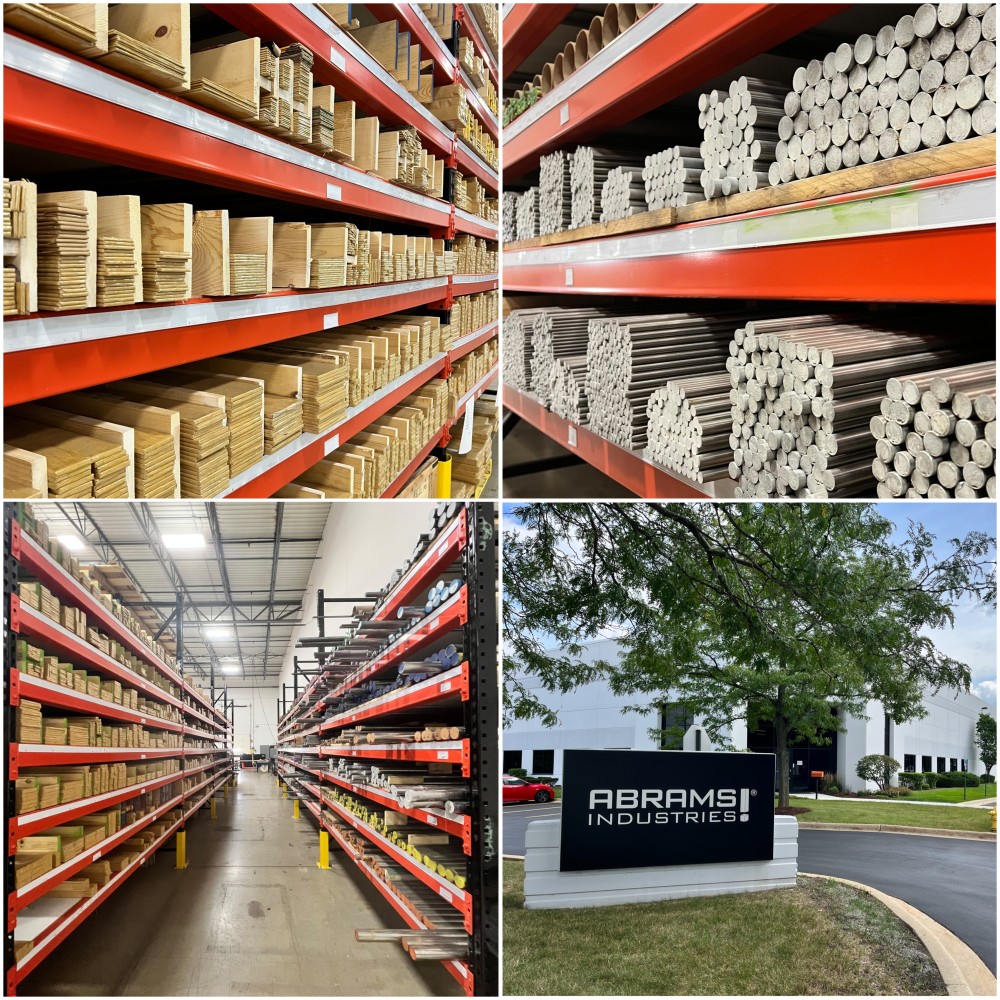 And I must admit, I immediately felt right at home.
IMTS 2022 in Chicago, IL
For the first time in ABRAMS' history, we were going to attend the IMTS with our own booth!
The IMTS – International Manufacturing Technology Show, the largest and longest-running industry trade show in the Western Hemisphere, is held every other year at McCormick Place in Chicago, Illinois. IMTS is where the creators, the builders, the sellers, and the drivers of manufacturing technology come to connect and get inspired. Industry professionals from all around the globe visit IMTS to discover the latest innovations in digital and traditional manufacturing, experience more than 15,000 new machining technologies, and find processes that will help solve their manufacturing challenges and improve efficiency. When we stepped foot into the halls of McCormick Place in East Chicago on Sunday, September 8th to set up our booth, it was already overwhelming.
At this ponit I want to say Thank you to Meike Sauer and Christiane Hlawatsch – Hannover Messe USA – for all the help and support.
And then: Six days of hard work. Six days of meeting new people, customers, partners, and friends from all over the world. Great people from the manufacturing, the steel and the tool and die businesses, as well as from the moldmaking industry – not just the CEOs and COOs, but also the toolmakers and moldmakers, great guys working with our products on the machines. Six days of showing off our products, handing out business cards, giving interviews and then meeting even more people to talk about our respective businesses.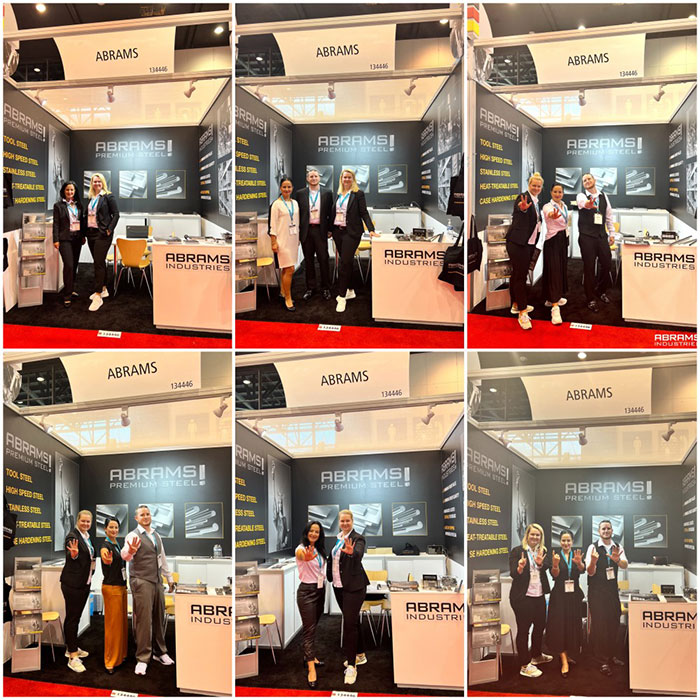 At the end of the week, my voice was entirely gone, but that couldn't put a damper on my mood. After all, IMTS really was one of the best weeks of the entire year. The amount of new people and success stories I got to know was so inspiring and it triggered a lot of excitement within me. Additionally, America really takes the whole networking process to a whole new level. Everyone is so welcoming and will immediately strike up a conversation with you. This makes it so much easier keep the small talk to a minimum and get into the real interesting stuff much sooner. It's one of the things that is majorly different to Germany, where you have to keep beating around the bush for a while until you finally get the information you really want.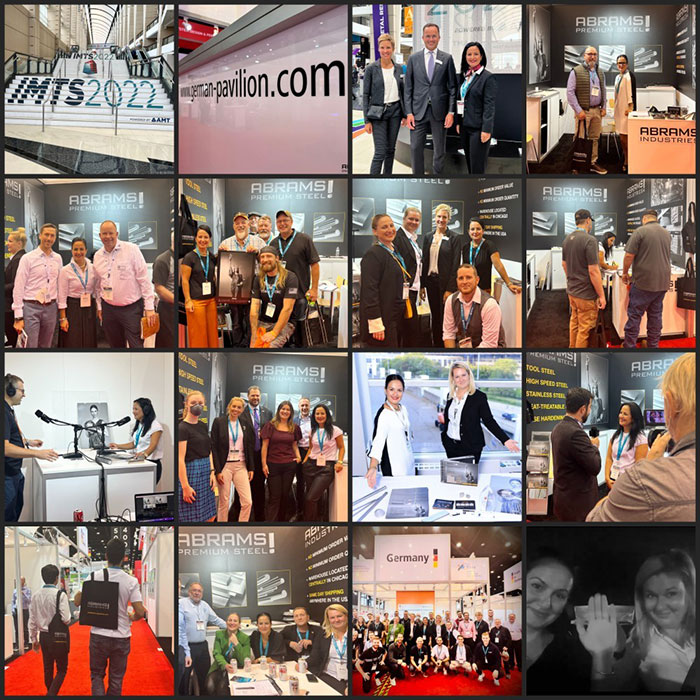 Back in Bolingbrook – back in our office, my team was hard at work contacting all the connections we made at IMTS. It was so amazing to see how many people we met and how successful the entire week was for us! I couldn't be any prouder of Dustin Gazda and Danica Bergsieker, who not only gave their very best right by my side during the trade show, but also afterwards to make sure all the networking would not go to waste. The whole team really came together to get the best result possible.
"Most Innovative Marketing Campaign 2022" – Award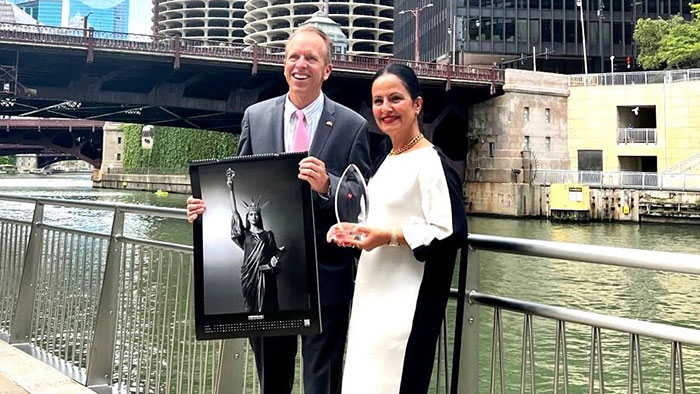 In the middle of it all, we received the "Most Innovative Marketing Campaign 2022" Award, which was given to us by "Invest in Niedersachsen" for our ABRAMS Art Project.
"ABRAMS around the World" – the guiding words behind the 8th edition of the ABRAMS art calendar: iconic cultural symbols staged with the perfection and variety of our products made of steel and aluminum. The result: 13 exceptional motifs with models from Milan, Amsterdam and Berlin. It is a limited release to our valued customers and partners around the world.
Receiving this Award is an immense honor and I couldn't be happier that our hard work was acknowledged like this. Thank you, Dr. Andreas Eckstein!
Roadtrip #1
After the trade show, I took one week off, packed up my dog and went on a roadtrip to Canada and back to the USA – Detroit, Toronto, Ottawa, Quebec, Montreal, Rochester, Niagara Falls, and Cleveland. As COO of multiple companies, work will always be a part of any trip, therefore it was the perfect opportunity to visit business partners and customers while exploring these cities. It's important to find the right work-life balance! I was so stunned by all the cities I got to see, but the nature that unfolded itself was the absolute highlight. Frida, of course, had the time of her life while exploring various fields, parks and lakes and fall couldn't have been a better season to discover it all.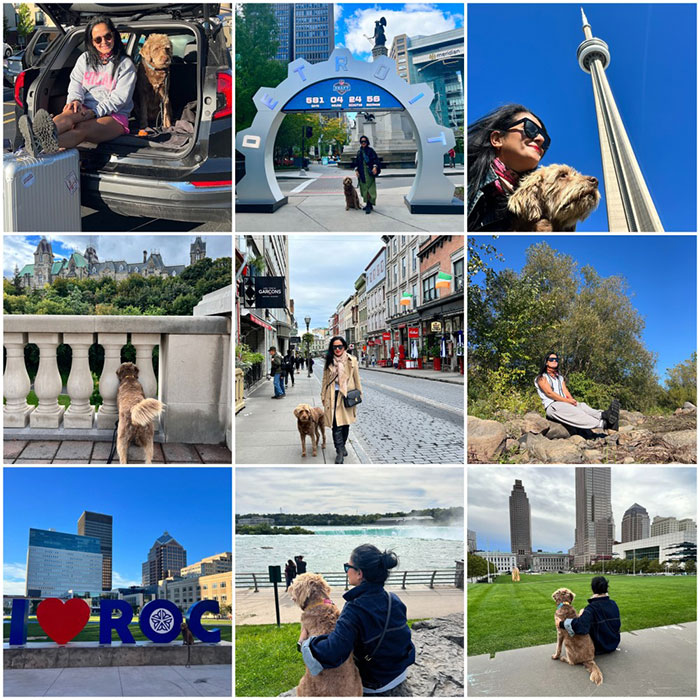 WiM – SUMMIT 2022 in Atlanta, GA
Not long after that, I was off again to Atlanta, GA to attend the 12th annual SUMMIT of Women in Manufacturing with more than 1,000 manufacturing professionals from 263 companies in 7 countries and 45 U.S. states.
Women in Manufacturing is a trade association dedicated to providing year-round support to women who have chosen a career in the manufacturing industry and works toward a world in which a diverse and inclusive manufacturing sector offers equitable opportunities and rewarding careers for all people.
Bringing together more than 1,000 manufacturing professionals from 263 companies in 7 countries and 45 U.S. states, participants were able to cultivate their community and connections through powerful networking, discussions and keynotes covering various topics and through local plant tours.
It was my first time attending, so I was really excited for what the days had in store for me. The summit certainly didn't disappoint. We had opportunities to enjoy plant tours at leading manufacturing facilities like Shaw Industries. We listened to keynotes covering topics such as "Amplify Your Impact: Effective Everyday Advocacy" by Applied Neuroscience & DEI Expert Kathryn Bardi. Speaker Shan Cooper, Founder and Chief Executive Officer at Journey Forward Strategies, LLC, presented the navigating chance that inspires connections and enables transformation. Jenny Drescher and Ellen Feldman Ornato, Founding Partner of The Bolder Company showed us in their interactive session how to build lifelong networks. I have met so many influential and inspiring ladies which, in turn, gave me so many new ideas and input for my own work path – just to name a few: Allison Grealis, Kara Mayner, Lesley Vizurraga, Brittany Hartman, Courtney Levin, and Kate Rome.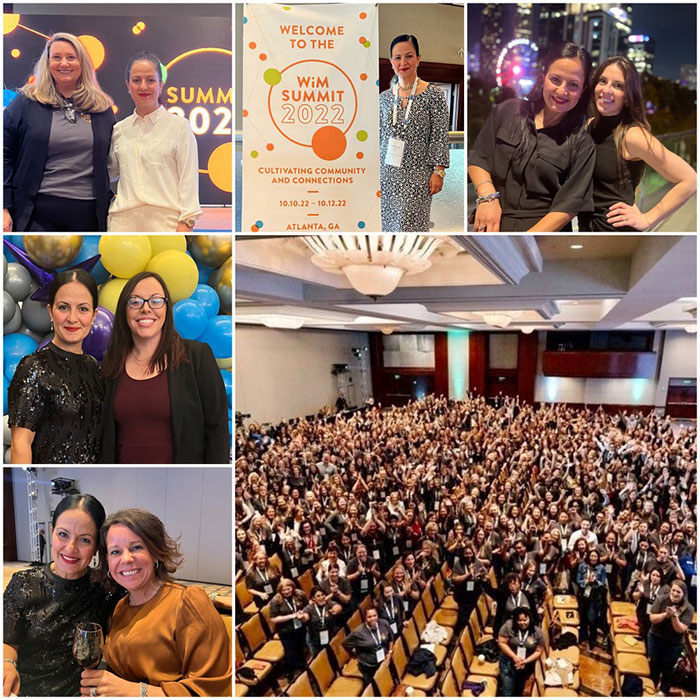 My entire time in America really showed me how important networking is, but not only to sell our products or to gain new customers, but it's also so important to get those fresh and new points of view from people you've just met five minutes ago. That's what makes events like this so special! The people you meet aren't only a means to an end, they can be people that accompany you for the rest of your professional, or even personal, life. Nothing is more amazing than making those meaningful connections. Connections where you instantly know that you're on the same wavelength and that working together will benefit both parties. Being so far away from home, but still meeting so many new people was such a wonderful experience and I got on the plane back to Chicago feeling extremely empowered and motivated.
"Excellence in Services" – Award
One of the highlights of my time in America was the German American Business Awards Gala hosted by AHK USA-Chicago!
The awards serve as one of the highest honors in the German American business community to celebrate the network's accomplishments, transatlantic partnerships, as well as its innovation and progress. They are the perfect opportunity to celebrate amazing companies, forge new relationships and to, first and foremost, enjoy oneself in marvelous company. The ceremony consists of five awards: The Coolest German Thing Made in the USA, Community Engagement, Excellence in Economic Development, Excellence in Services and Excellence in Innovation. And it is an immense honor that we, the US-American division of the ABRAMS Group, have won the award for "Excellence in Services 2022!"
"ABRAMS is committed to finding a solution to any steel inquiry, customizing their product to their customer's needs. A true industry trend setter." says the Jury.
A big Thank You also goes to Dolores "Dede" Simon, ACE for presenting the Award in a wonderful way.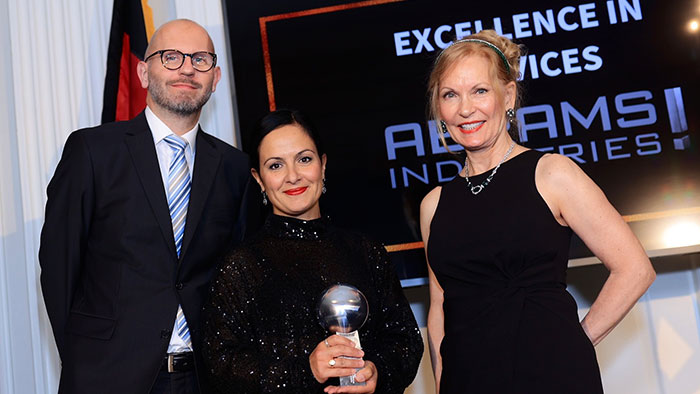 It still feels surreal getting so much recognition only one year after opening our branch in Chicago, in the middle of a pandemic. It showed me once again that dedication and hard work really does pay off. The gala was the perfect opportunity to celebrate all our accomplishments in the last year and how far we've come. I am so thankful to our CEO Dr. Juergen Abrams, our whole team and every business partner and customer who helped us along the way. This award wouldn't have been possible without everyone working together perfectly. The whole night felt like such a dream!
26th Annual Gala in Atlanta, GA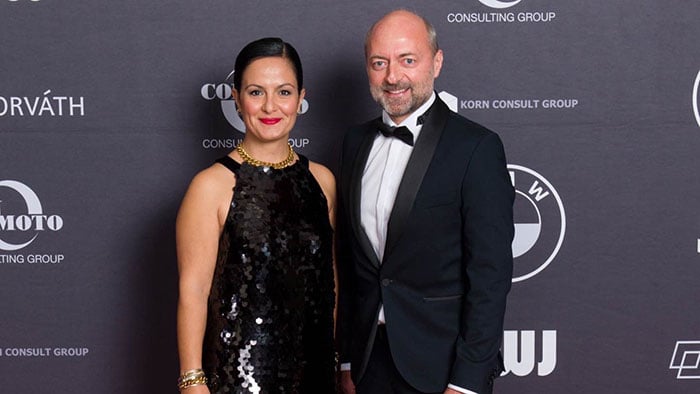 Before I was even able to recover from the last Gala, our CEO Dr. Juergen Abrams finally joined me in America. So many things wouldn't have been possible without his unwavering trust and faith in me for the past 18 years that we have been working together. So we made our way to the St. Regis Hotel in Atlanta, GA for the 26th Annual Gala & Fundraiser hosted by the GACC South – German American Chamber of Commerce of the Southern U.S., Inc. The event brought together leaders and executives from various industries. It was such a joy to reconnect with old friends and make even more new acquaintances like Emre Altindal, Pavlos Chimonidis, L. Elizabeth Gibbes, Mark Pierson, Reitmeyer Christian, Norbert Sporbeck, Torsten Aeugle, Steven H. Thal, Sascha Tietje, Joseph Lulka, and Cheryl Geiser – just to name a few.
US Sports – CHICAGO Teams
One thing that was really special to me was experiencing American sporting events firsthand! In my three months, I went to see the Chicago Bears, Chicago Cubs, Chicago Bulls and Chicago Blackhawks play and every time was amazing. The way that as soon as the National Anthem starts, every single person gets up from his seat, puts his hand on his chest and sings the whole anthem – word for word – WHAT a wonderful feeling and, even as a non-American, every single time it gives me goose bumps … LAND OF THE FREE AND THE HOME OF THE BRAVE! The whole atmosphere is so special and everyone who gets the chance to experience this shouldn't miss out on it.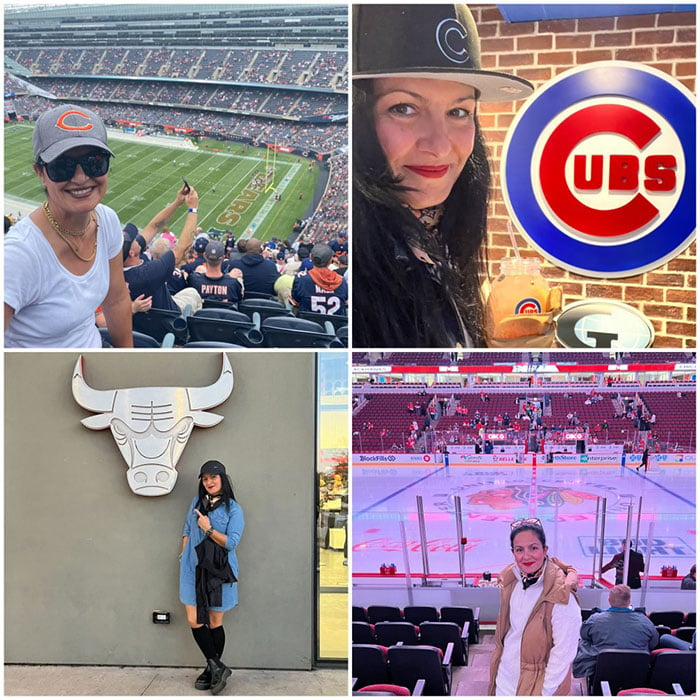 ABRAMS world trade wiki and ITCC
Speaking of connecting, back at the start of September, I got to meet Fabrice Bonvoisin, President of the International Trade Club of Chicago (ITCC), at the IMTS. Even though I was at the trade show to represent ABRAMS Industries Inc., I still am the COO of ABRAMS world trade wiki, a unique Business Intelligence Portal, where UN Comtrade macro-economic data is connected with customs trade data, too. So, when we got to talking, we quickly figured out that our ABRAMS.wiki would be the perfect fit for the ITCC. The ITCC is a not-for-profit trade association. Its members represent a broad range of manufacturing, technology and service sectors, as well as educational institutions, government agencies, and the foreign diplomatic corps. So, we exchanged business cards and not long after we got into contact again and I got to show him how our Business Intelligence Platform could help the ITCC and its members.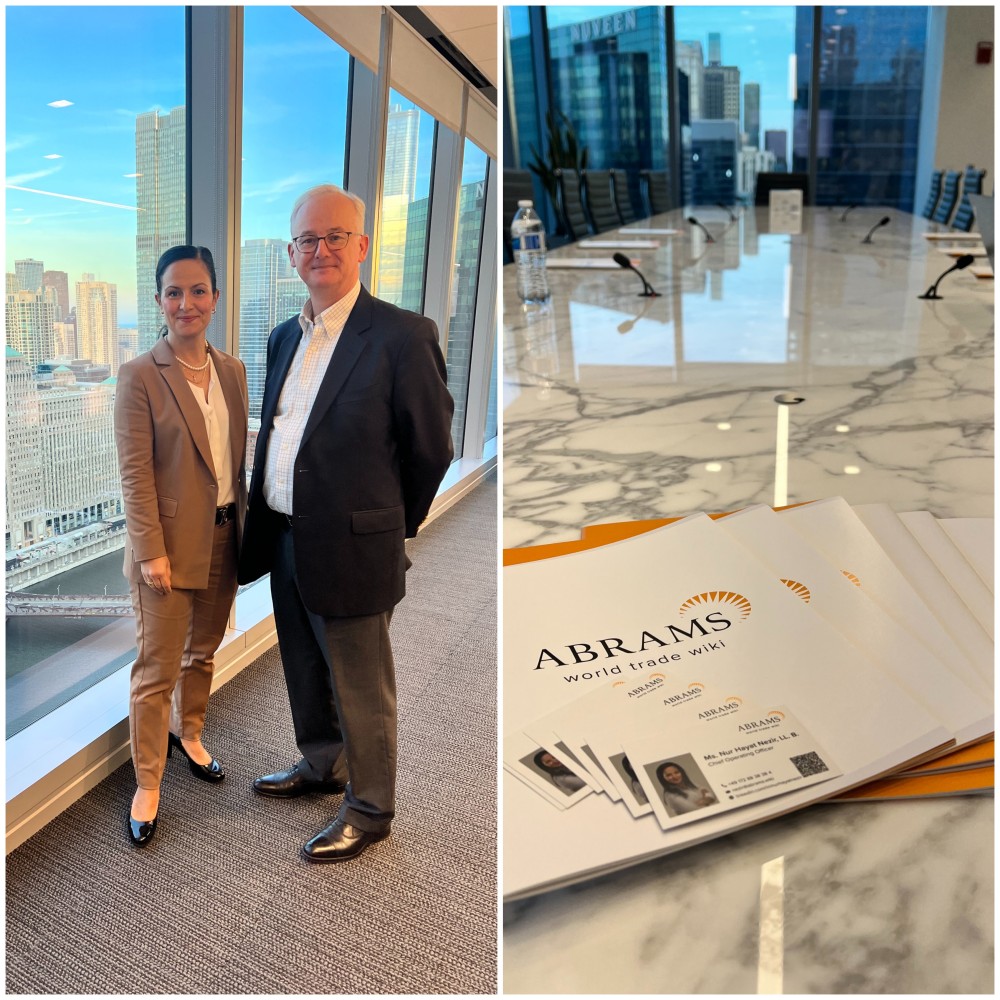 It didn't take long until we agreed that a collaboration would be ideal for the both of us and at the beginning of November, I was invited to give a presentation to their members, at their office! This was an amazing experience and really showed me that no workday is like the other. No matter what you expect to happen, there will always be opportunities that lead you in completely different directions and open an entirely new set of chances.
Roadtrip #2
At this point, I couldn't believe that it was already November and I barely had three weeks left of my time in America for this year. Time really does fly when you're having fun! Prior to making one last stop in New York, before leaving the country, I took another week off to do some more exploring. This time, my roadtrip took me and Frida to Cincinnati, Charlotte, Myrtle Beach, Pittsburgh, and Indianapolis. WOW! What a beautiful country! Long walks by the rivers, swimming in the Atlantic, descovering beautiful landscapes, meeting great people. And again, it was another amazing opportunity to connect with business partners and customers on-site. Of course, working in the steel business, I couldn't miss out on the opportunity to visit Pittsburgh, aka "the Steel City"!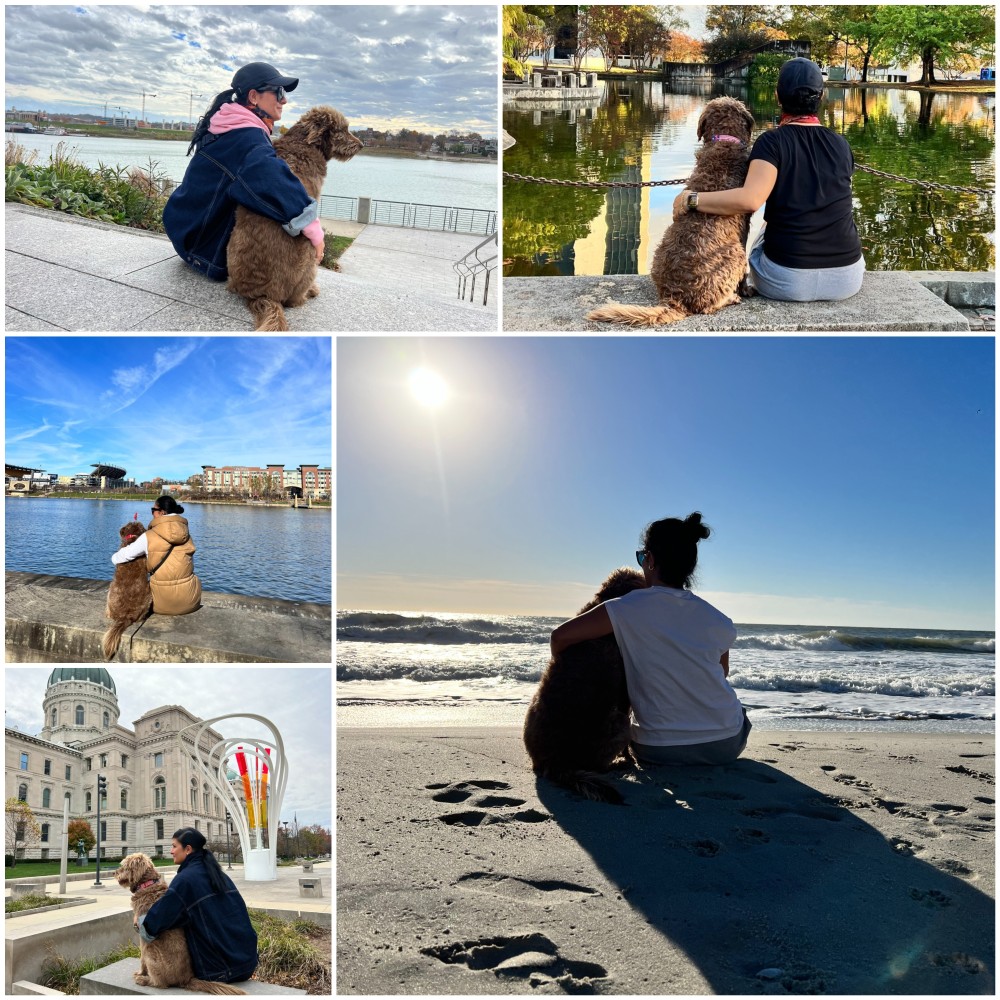 New York, New York – Part I
In New York, I attended the German American Business Night in Manhattan on the 60th floor, hosted by the German American Chamber of Commerce, Inc., where I had such a blast. It was great to meet Victoria Kaeser, Susanne Gellert, Ann-Brit Schlingmann and Sebastian Fritz from the GACC NY, Mario Kratsch from the AHK USA-Chicago, and Jan Heck from Miele USA again. Fantastic to connect with great people like Dirk Janzen from Lufthansa Group and Angelique Brunow and Alex Reimann from Infront Sports & Media AG and Christian Keller, CEO of the German football club 1. FC Köln. Hearing so many fascinating stories from these vastly different industries really gave me a whole new perspective on things and how we can use those tips and tricks in our own companies. It was amazing to represent ABRAMS Industries Inc. US / CA / MX as well as ABRAMS world trade wiki and to show that we really have the perfect solution for everyone! Frank Sinatra once sang " If I can make it there, I'll make it anywhere" … so true!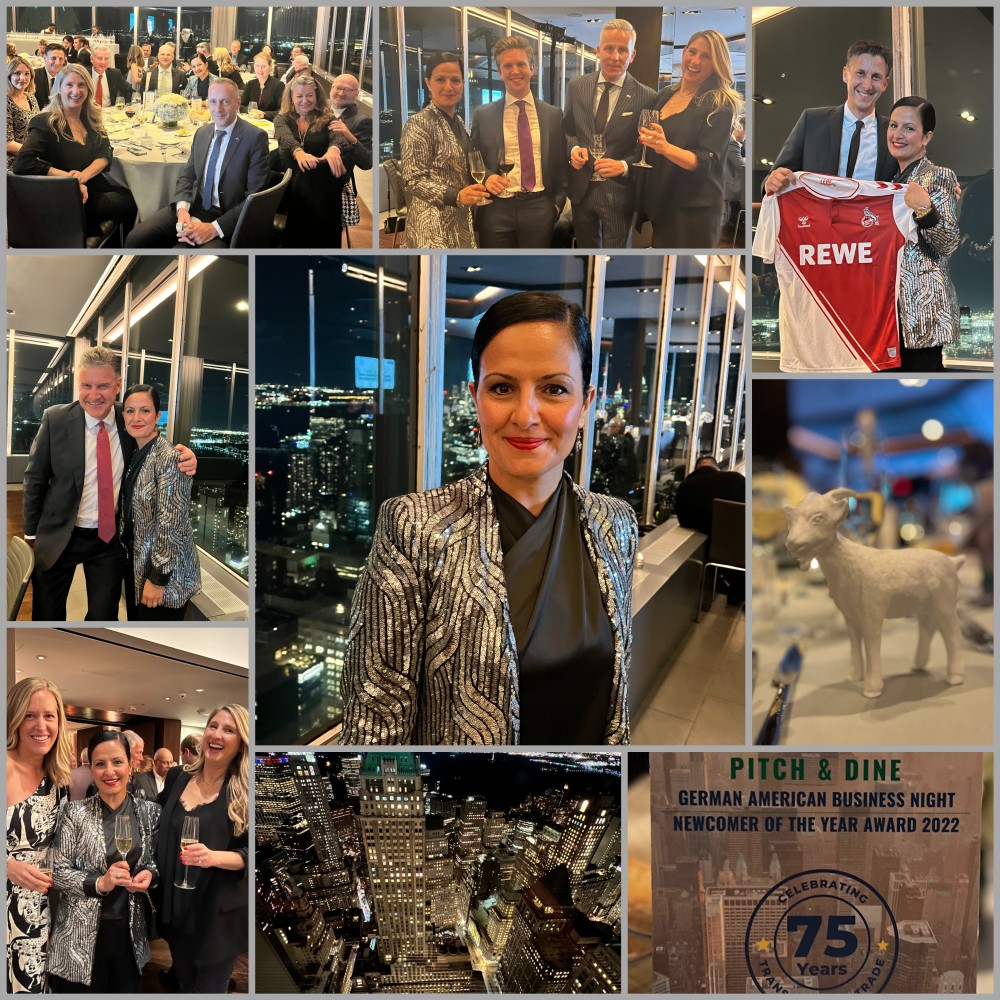 New York, New York – Part II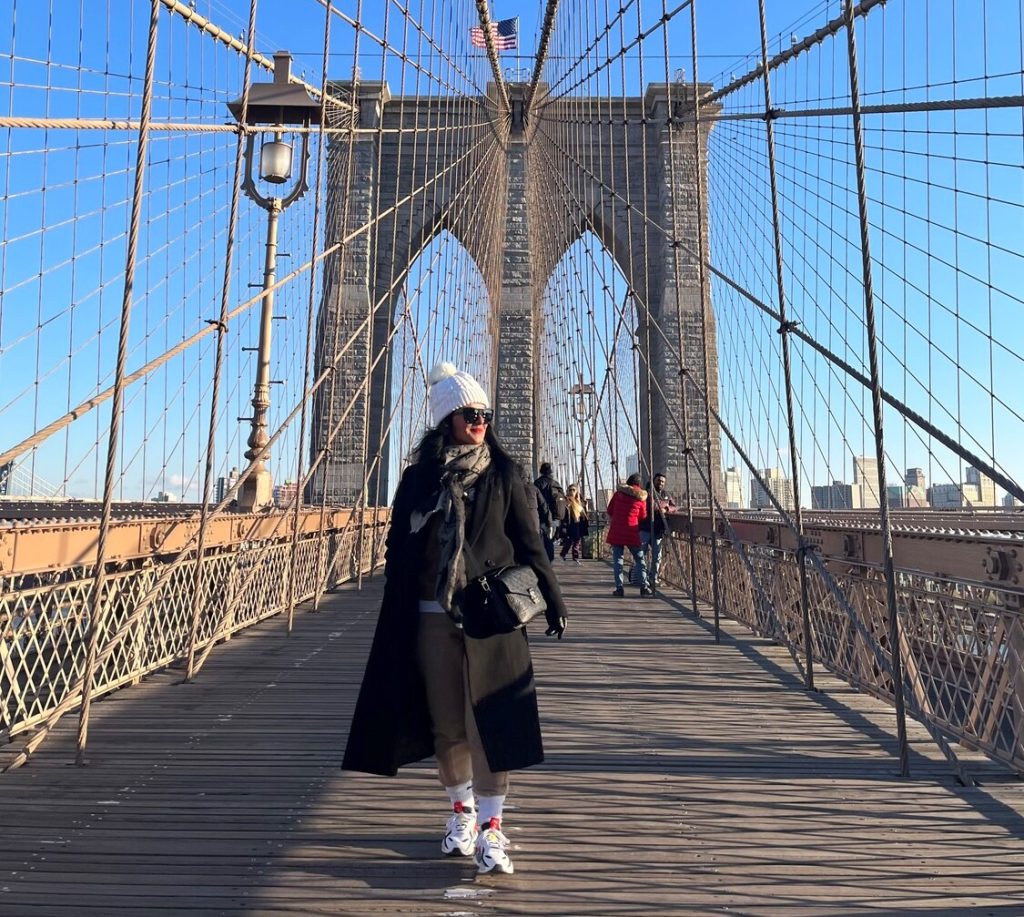 But you do not come to New York City without doing some touristic stuff – even if you have been here before, right? I literally walked my shoes off. As my hotel was located in Lower Manhatten, I started very early in the morning past the One World Center and the Memorial, crossed the Brooklyn Bridge, waved to Lady Liberty, walked down to Chinatown, little Italy, had breakfast in Soho, passed Washington Square Arch, Empire State Building, went all the way to the Hudson river and all the way back – where I waved to Lady Liberty again and thought to myself: what a wonderful city!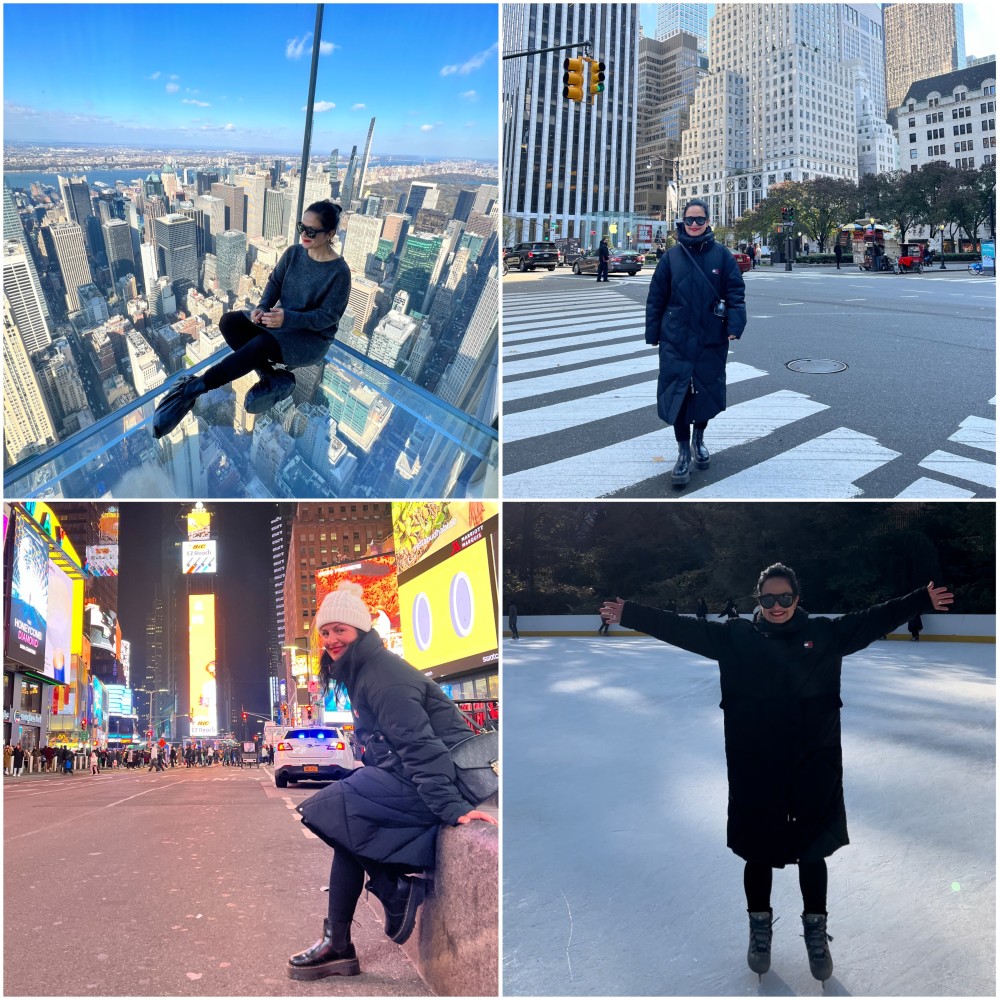 On the next day I had great breakfast at Grand Central Terminal, crossed the street and walked into SUMMIT One Vanderbilt: 1,070 feet above the streets of New York. WHAT a feeling! I walked all the way down Madison and 5th Avenue, passed all the nice shops, entered Central Park, rented some ice skates and felt like in the movies. After that, all the way to back to Times Square. New York always has a special place in my heart and it really felt like the perfect trip to end my three months in America.
When I got back to Chicago, it was unfortunately time to pack my bags and say goodbye to my Bolingbrook team, the house I have called my home for the past 12 weeks and all my friends and business partners. I, of course, knew it was only goodbye for a while. Still, it was very hard for me to leave it all behind after getting so involved in the culture and so used to seeing certain people every day.
Thank you
Thank you to every single American, whether I have passed you by on the street, at the gas station, in the dog park, or in the supermarket, whether you were the Uber driver, or the Police officer – to every single American: thank you for giving me your "Hey, how you doin'?" and making me feel so welcome. And that little bit of kindness never failed to make me feel at ease and make my day a little bit better. It is such an essential part of the American culture that I really appreciate and am going to miss.
Thank you to the AHK USA-Chicago for everything they did to support me. No matter what, they always offered a helping hand or some advice and I really couldn't be doing all of this without them. The whole team is amazing and they make it their mission to support individuals and companies on their path in the USA. I can't recommend using their services enough as they really are a massive support system for everyone who wants to establish oneself in America. Special thanks to Mark Tomkins, Mario Kratsch, Robert Jürgens, Gerrit Ahlers, Franziska Hennig, Anna Roselinde Hack, Katrin Geisler and Elizabeth Czapski.
Thank you to Timo Rehbock, Nadine Schieban and Matthias Amberg from Barnes & Thornburg LLP for your support.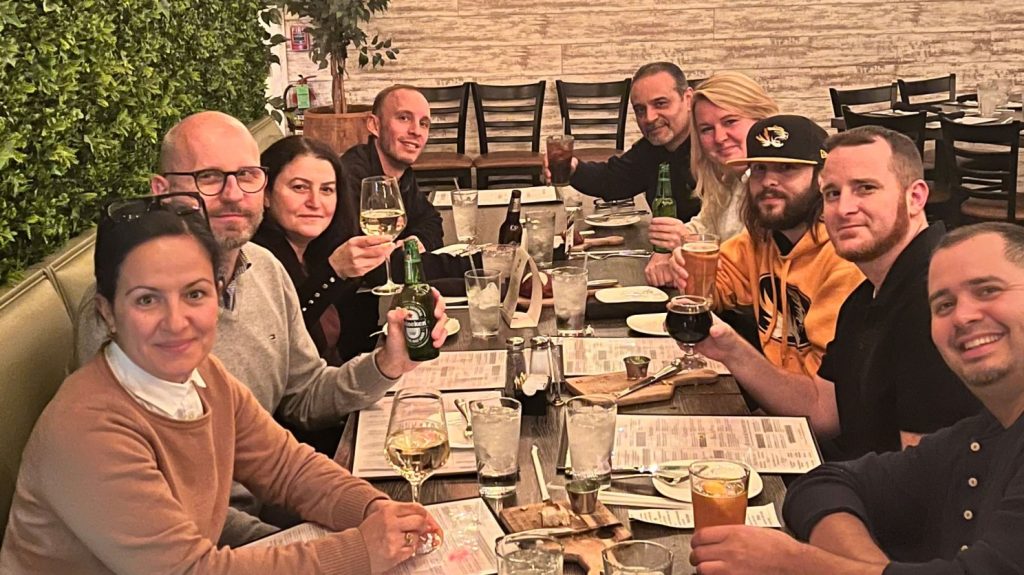 THANK you to my unique team in Chicago, you all made me feel so welcome and it was really wonderful to see everyone again. I am so proud of every single one of you and what we have achieved!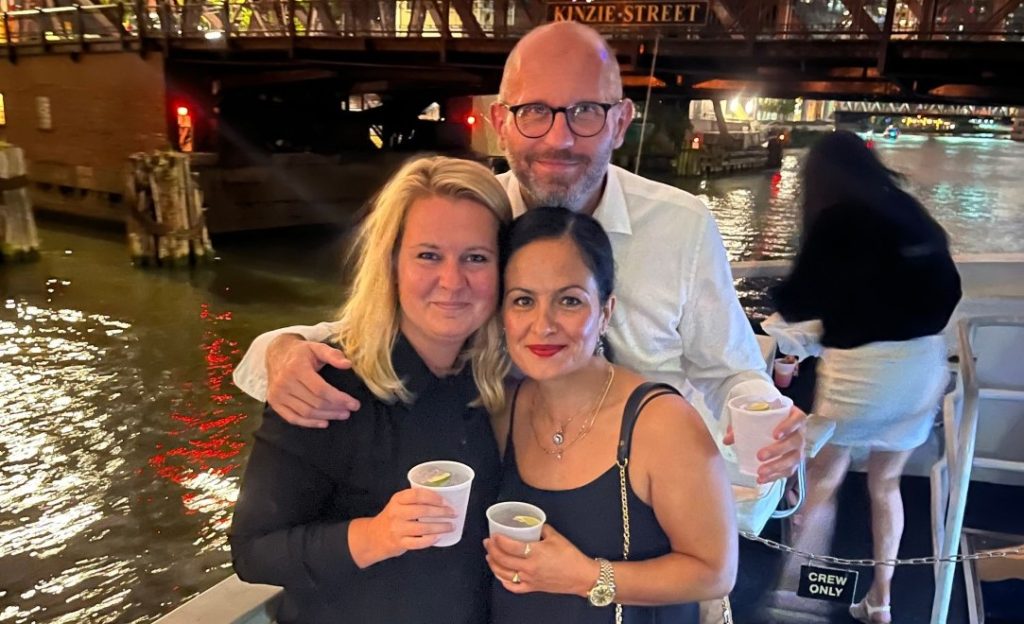 THANK you to C. Voss and Danica Bergsieker for living with me in one house for that long, supporting me during my stay, looking after Frida when I was travelling and sharing amazing memories – it wouldn't have been as good without you two!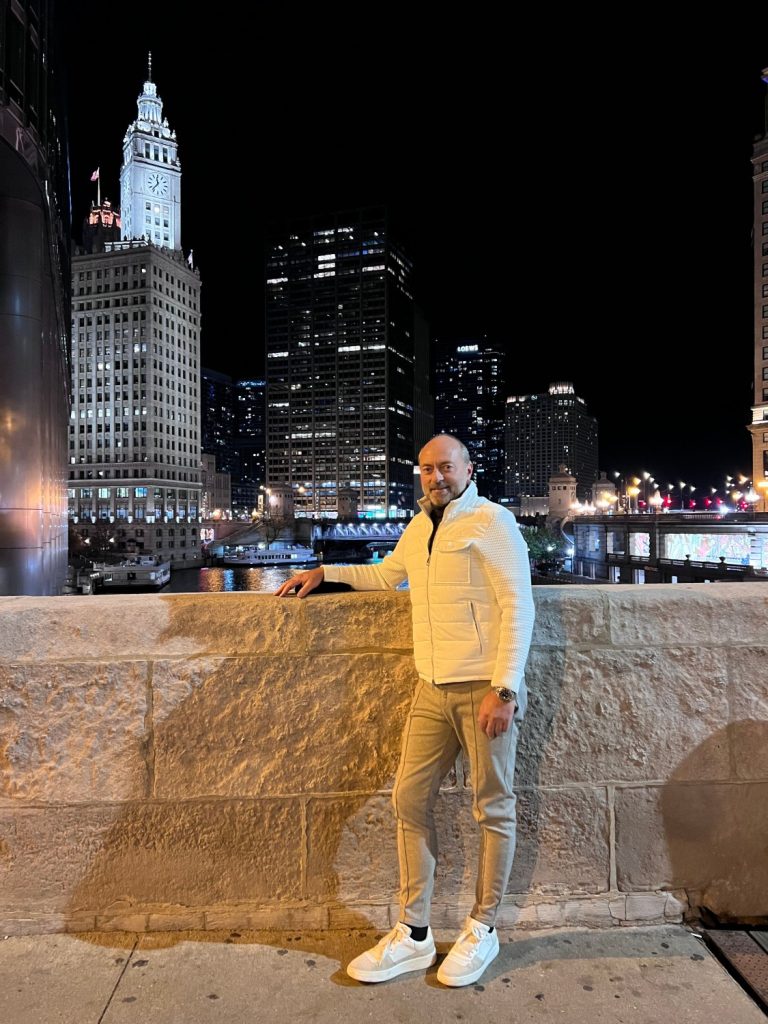 Last but not least: THANK you to my incredible, clever, unique, fun, and wonderful boss, Dr. Juergen Abrams – Founder and CEO of ABRAMS Industries® EU, ABRAMS Industries Inc. US / CA / MX and of ABRAMS world trade wiki.
I have been working for you and with you since 2005 – almost 18 years of hard work and pure joy. I love my job, because of your trust in me!
All in all, I had an amazing time, and I'm so happy that it all worked out the way it did. I wouldn't trade the experiences I had and the people I met for anything else in the world.
Of course it was a blast travelling with my companion Frida and to see how much joy she brought to the people around her. If I had one dollar for every person that complimented and wanted to pet her, I would be a millionaire! She has been with me for almost 10 years now and it was amazing to have that part of home with me everywhere I went, and it was a special moment that she got to be in the cabin with me on the flight back from Chicago to Germany – so thank you, Lufthansa!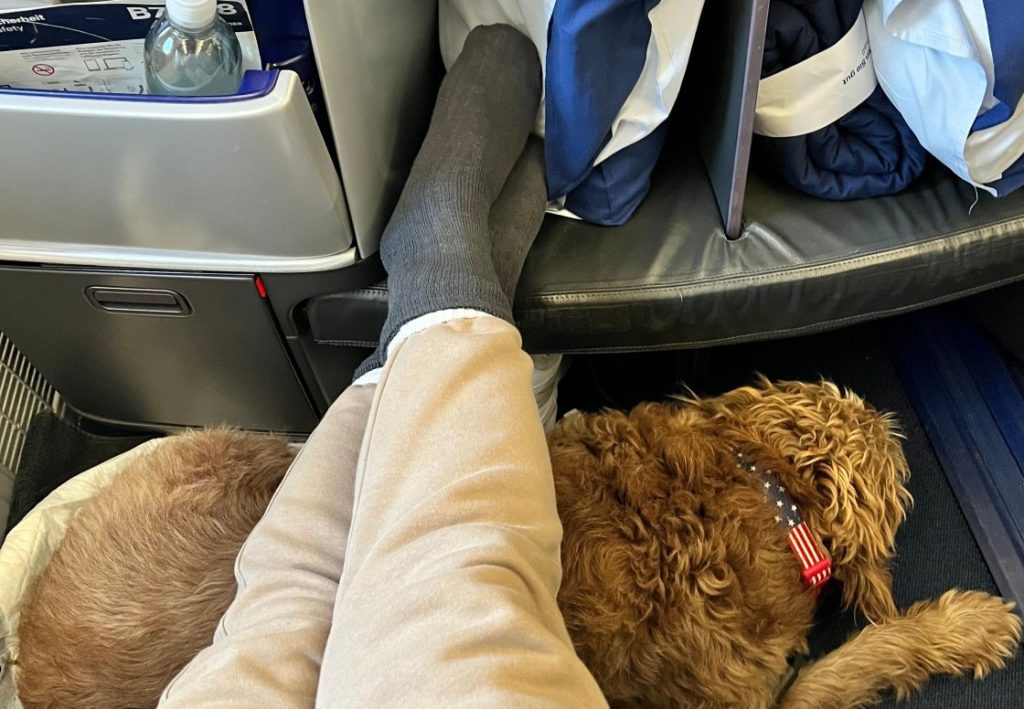 As sad as I am to have left the USA, I am very happy to be back in Germany and to see all my family, friends, and colleagues again and to catch up on everything I've missed while I was gone.
So, was it worth it? Defininitely YES.