The quality of our products is always the most important thing!
It is always great to see what amazing products are made from Premium Steel, Premium Aluminium and with the help of ABRAMS Industries'® Premium Tools.
In our previous article, we shared the fascinating story of how jewellery manufacturer Erosch turned our Premium Steel into 3D chain pendants. Today we would like to take you on the next stage of this journey and show you how these pieces of jewellery are packed up, before they arrive at our premises, and we can unpack them.
Dive into the wonderful world of our steel!
What makes ABRAMS Industries® so special?
We offer 70 steel grades in 32,629 dimensions and saw, mill and grind to desired dimensions. This makes it even easier and more effective to process our material, saving both money and time.
Order only what you need directly from our online shop. There is no minimum order value and no minimum order quantity for your steel or aluminium products, so our customers save unnecessary warehousing costs and can concentrate on their core business.
Our production, as well as our warehouse, are located directly at our headquarters in Osnabrück, this way you will receive your goods within 3-5 working days, as the material is dispatched on the same day (subject to availability).
Which steel is suitable for jewellery?
Our steel is synonymous with quality, durability and longevity and is so versatile that we offer the right grade and size of steel for every project.
Our PREMIUM 1.4301 (AISI / SAE 304) is best suited when making jewellery from steel. This is a corrosion-resistant, austenitic chromium-nickel steel, is easy to process and has an attractive appearance when polished to a mirror finish. This all-rounder for jewellery making is weldable, wear-resistant and has good deep-drawing properties.
The ABRAMS steel pendant made from €co Präz® is ready: what now?
When the pendant is finished, the chain is inserted, and the bending ring is closed tightly.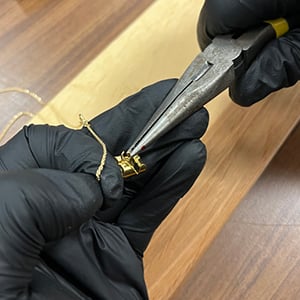 The chain is ready. The ring bends up only under a heavy load, to protect the pendant and chain.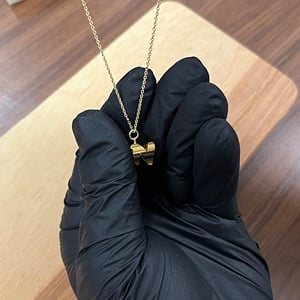 Now the chain with
the pendant is secured
in an eco-grass box.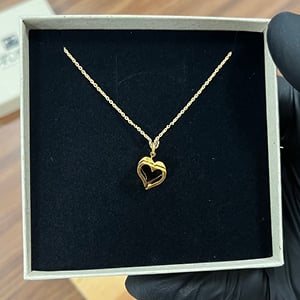 Special customers get
an original Erosch
transport bag.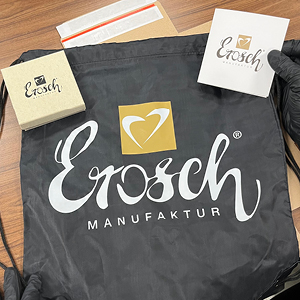 Everything is then packed
in an FSC shipping box
and sealed.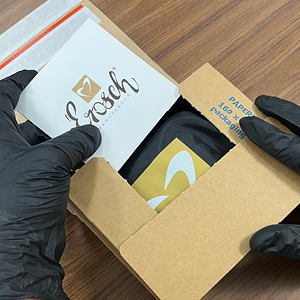 Equipped with a
silicone-free sticker,
it's off to the customer!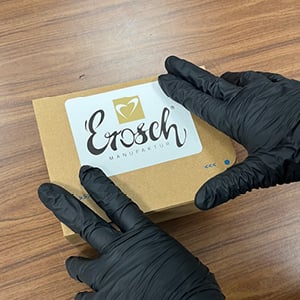 After only one day, the order arrives at ABRAMS Industries® and we are delighted to unpack it.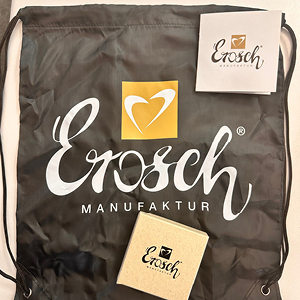 The pendant, made of our PREMIUM 304 steel in the in-house €co-Präz® finish.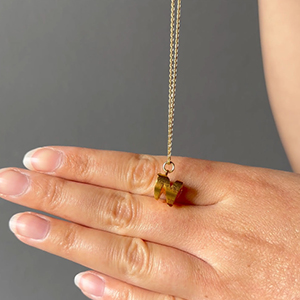 The pendant, made of our
PREMIUM 1.4301 (AISI / SAE 304) in the in-house €co-Präz® finish, is the perfect blend of our high-quality steel and the elegance of jewellery. The following video is a testament to the level of perfection that goes into each and every pendant – from the fabrication of the steel to the creation of the stainless steel jewellery pendant.
Every curved line, every sparkling detail is brought to life by the unique properties of our steel, making it possible for customers to enjoy it for a very long time. Thus, the strength and durability of our material ensure that these jewels will be a part of many memorable moments for a long time to come.
The collaboration between steel supplier ABRAMS Industries and jewellery manufacturer Erosch.
What makes our partnership special is the fact that our steel is an environmentally friendly alternative in the jewellery industry. We put a lot of emphasis on sustainability and are proud that our steel is not only of high quality, but also helps boost the domestic economy. Local production and short delivery routes ensure that jewellery lovers can enjoy the pieces with a clear conscience.
This way, we not only support each other, but also contribute to the development of the German economy. 
We are incredibly pleased to be able to share this success story and to show people how special steel can be. Our precision steel in particular is perfect for getting the smallest of projects done accurately and effectively.
Many thanks to Boris Müller and Erosch for the great cooperation!